Friends Of  High Royd's Memorial Garden
"HAPPY BEES"
Packed with nectar-rich herbaceous perennials and swarming with happy bees.
The Heritage Weekend September 2016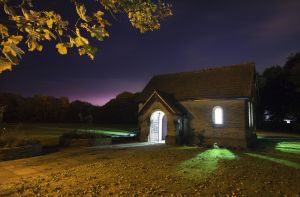 Friends Of  High Royds Memorial Garden
The Hospital Burial Ground.
 From December 1890 the unclaimed asylum dead were buried at Buckle Lane to the right of the former Hospital Railway.
'It was reported to the committee that the Lord Bishop of the Diocese Dr William Boyd Carpenter had attended at the Asylum on Thursday 1st June 1893 and dedicated the Cemetry for Burial purposes.'
The Asylum having their own burial ground for the unclaimed Pauper Patients was a cost effective solution for an ever increasing problem, back in those days it was most unwise to make it public that you had a relative in the Asylum, insanity was considered hereditary and on that basis many people were simply left there in may cases for decades.
The last burial took place in 1969, the population of the Cemetery stands at 2861.
The plaque on the gate is incorrect as it does not take into account three of the babies born into the asylum.
All images of the former patients/inmates were sourced from the West Yorkshire Archive Service, Wakefield, collection C488
FRIENDS OF
HIGH ROYDS MEMORIAL GARDEN
 Thank You
The project to restore the graveyard began in September 2007 and sincere thanks are given to all the many volunteers who gave so freely in terms of money and practical help.
Financially the project would not have been possible without the help of the following organisations:
Bradford Metropolitan District Council
CNET – Grassroots Fast Track Scheme
Churches Together in Burley and Menston
Community Spaces GroundworkUK
Coronation Lodge – R.A.O.B
Guiseley with Esholt PCC
Heritage Lottery Fund
Ladies  Please Choir
LeedsCity Council (Guiseley & Rawdon ward)
LeedsCollegeof Building
LeedsInvolvement Project
LeedsMental Health Teaching NHS Trust
Shipley & Bingley Voluntary Services
St. Wilfred's Church, Calverley
St. John theDivineChurch, Thorpe Edge
SwarthmoreCollege(David Lynch and friends)
Leeds Primary Care Trust (NHS –Leeds)
Menston Parish Council
MenstonMethodistChurch
North ofEnglandHorticultural Society
Q Equality of Queensbury, Bradford
Our apologies for any omissions.  So many organisations and individuals gave so generously and freely that it is not practicable to list them all.
Founding Management Committee Members
Derek Hutchinson – Chairman
Ron Sweeney – Vice Chairman & Treasurer
John Steel OBE, Secretary
Mark Davis,
David Lynch
Quentin Mackenzie
Andrea Pride
Ryan Pride
Sylvia Robertshaw
Alan Storey
Committee as at July 2012
 Ron Sweeney – Chairman
Quentin Mackenzie – Secretary
Mark Davis
David Lynch
Elizabeth Sharp
Niccola Swan
Tricia Thorpe
Registered Office: 50,Cleasby Road, Menston, Ilkley, WestYorkshire,LS29 6JA
Registered under the Industrial and Provident Societies Act (no. 30846R)
HMRC recognised charity – reference XT224968
————————
Please take a little time to watch the slide shows I have created.
————————-
Much appreciation to Gladedale, Ben Bailey Homes for gifting us this important historical Chapel and land.
It is here that 2861 people from the hospital  found their final resting place. 
The majority of the people interred at Buckle Lane were former patients, many of them spending decades of their lives resident in the hospital.
————————-